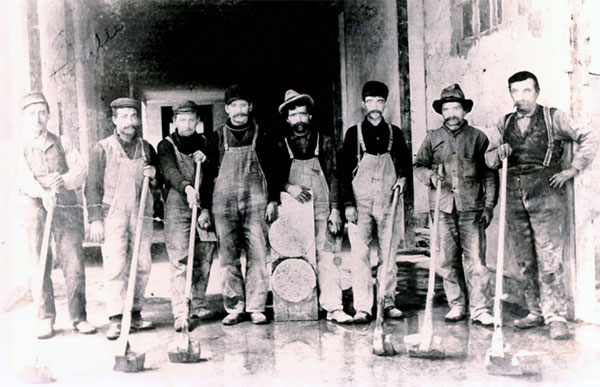 Terrazzo Grinders and Finishers...up to 1920.
Terrazzo floors have an outstanding record of durability and performance dating back over a thousand years! "One of the earliest, original recycling ideas, terrazzo began as the creative reuse of leftover chips of marble... Terrazzo was green before green was trendy."
Source: www.ntma.com//wp-content/ uploads/2015/06/ Sustainability Brochure.pdf
In many older buildings, the floors can be restored to their original luster at a fraction of the cost to replace the finish. Today, use of terrazzo makes the same sense as it did long ago, and even more because of the awareness now of the environmental impact of building choices.
The Hoover Dam is not only known for its engineering superlatives but also for it's art.
In 1936-37, terrazzo floors were installed by two Italian immigrant brothers, Joseph and John Martina. With the help of 30 countrymen, they spent nearly a year installing the terrazzo floors- still gleaming today, imbedded with the Southwestern Indian patterns. The workers imbedded marble chips in cement, separating them with brass or aluminum divider strips creating the tiled pattern. After the mosaic hardened, large finishing machines were used to polish the surfaces. The result was a lustrous terrazzo.
Source: www.usbr.gov/lc/hooverdam/ history/articles/ rhinehart1.html
Learn more about the History of Terrazzo and Durability / Sustainability...
Please visit our Design Tools page for more information regarding specifying terrazzo with LEED®. Our Specifications section includes downloads with USGBC LEED® Certification program information.